Commercial Services
At Enspect Inc., we believe there is no such thing as a "cookie cutter" project. With a broad range of clients, we understand a food processing plant will have significantly different needs than a production facility or retail space. Even two projects for the same client in the same building may have different focuses and design requirements. For this reason, it is impossible to develop a set of services that meet the needs for all our clients. Instead we look at each project on a case to case basis and provide a custom set of services that will meet our client's needs.
Adaptive Reuse:
Whether it is to get the perfect location, acquire a unique aesthetic, or to save money, adapting an existing building to meet your current needs is often a preferable option. Our team of engineers have worked on numerous adaptive reuse projects. Varying from simple checks of existing structure for new loading to complete renovations with new and/or reinforced structure. For these projects we provide a several of services including; pre-job walkthroughs, inspection services, pricing or construction documents, and letter reports or calculation packages.
Historic Renovations:
There are many reasons why renovations may be required to a historic structure. Retail locations that want to improve their storefront without losing the historic look. Businesses needing to meet new safety standards but want to maintain their ornamental handrails. Or simply exterior elements where time has taken its toll and need to be replaced to bring them back to their former glory. Enspect Inc. has experience in all of these areas. Knowing that engineering requirements for renovations vary between local building codes, we will preform the necessary research to ensure our clients are equipped with exactly what they need to meet code.
New Construction:
For clients with very specific needs, constructing a new building may be more beneficial than adapting an existing building. Instead of "working around" or modifying existing structural elements, your needs are taken into the foreground and designs are formed around them. We have found that the key to ensuring a new construction project is successful is communication. With many parties (e.g. engineers, architects, mechanical/electrical) communicating changes and findings early saves a lot of time and money later. Enspect Inc. has developed several trusted relationships with many architects, fabricators, and contractors which allows us to understand each of the different construction phases and provide clear/concise information to keep the project moving forward.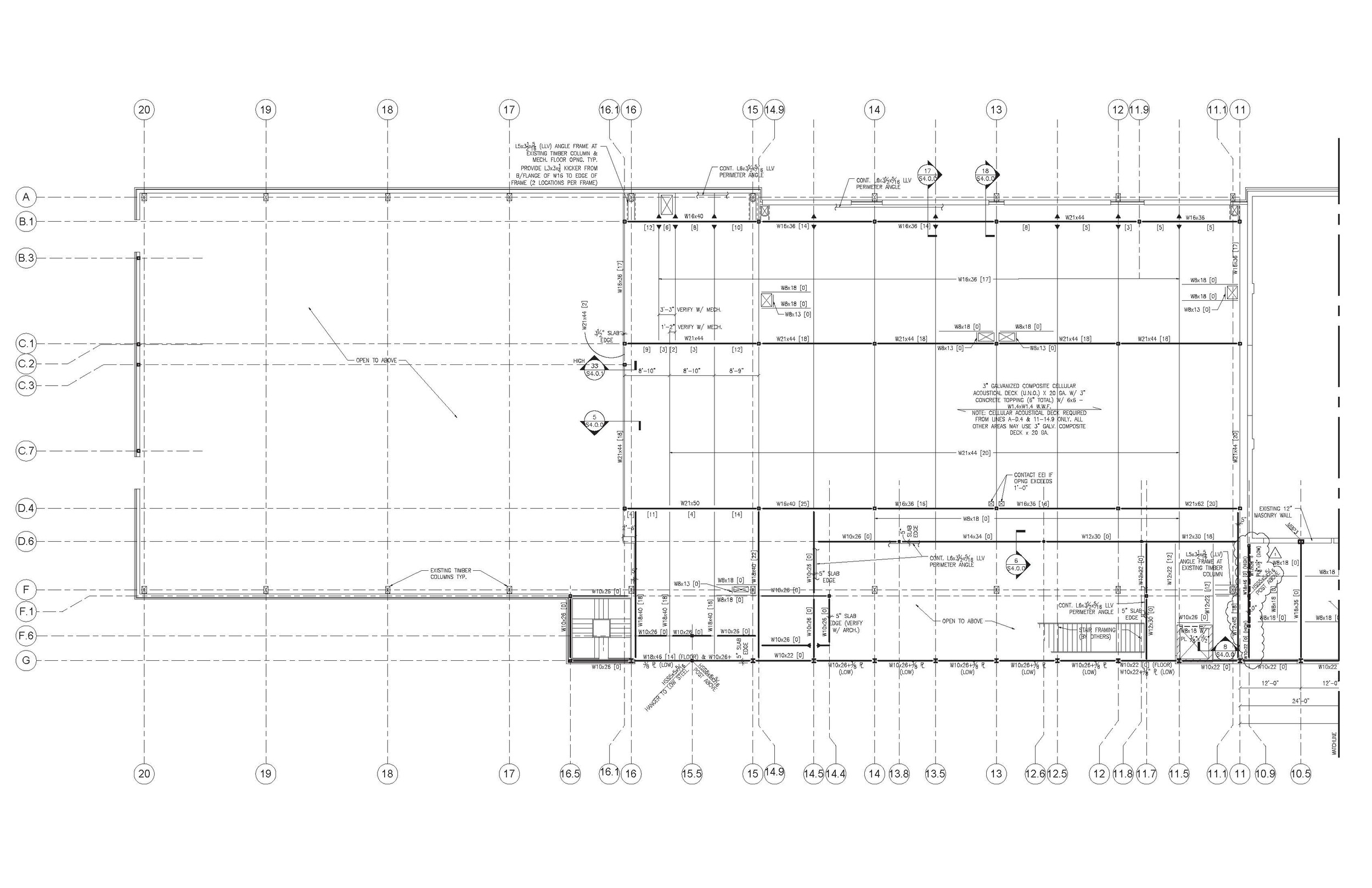 Intrinsic School (Adaptive Reuse/New Construction) -
This project required converting what was once a lumber yard into a blended learning school in Chicago which included a highly accelerated design and construction schedule. Our hands on and in depth evaluation of the existing structure was pivotal in assisting the architect, owner, and contractor throughout the design and construction process.
Northwestern Univ. Sailing Center (New Construction) -
This project included cast in place board formed concrete walls on the beach of Lake Michigan. The small yet captivating space allows for easy water access for sailing students while providing conditioned instruction space and ample storage for equipment.
Paine Art Center (Adaptive Reuse/New Construction) -
The adaptive reuse portion of this project improved banquet space from what was once used as a carriage house some 100 years ago. A conservatory that seats 160 persons was also added utilizing custom steel roof trusses supporting a large glass skylight.